In many countries, Emergency Medical Services or EMS is provided uniformly according to the rules and regulations of the country. Even though each state/province has its own legal framework, the overall authority belongs to the central government of a country.

As far as a citizen/resident is concerned, there is a common system that can be followed anywhere within the borders of the country. This means even if he/she is at home or at any place within the country, they all have to do is the same in requesting Emergency Medical Services for first aid.
Last time, while talking about Emergency Medical Services in India, you have seen that there is no common EMS model in India like other western countries and each model varies from state to state. This results in the common people of India facing life-threatening emergencies without getting a uniform medical first aid.
Even though India is developing at a faster pace, we are still far from making up a common EMS Model in India. To understand it, one must know the present conditions of how the health and emergency departments in our country are-
How can a common EMS Model work?

Imagine an accident scenario in a place where EMS Model is present, the first thing a person who is aware of the EMS model will dial an emergency toll-free number that immediately sends a message to a customer service who then arranges immediate ambulance service along with support staff experienced in first aid training to the location of the accident.
The emergency medical services are provided from the nearest location. In response, emergency medical services arrive at the location at the earliest, provides immediate medical support to the victim and transfer to the nearest hospital in a fully equipped ambulance. This is what a person sees EMS from an outer perspective.
Beyond this perspective, there is another side behind the curtains. The factors that work behind together to bring a successful EMS model are - 1. Legal Framework 2. Governance 3. Education & Training 4. Information Technology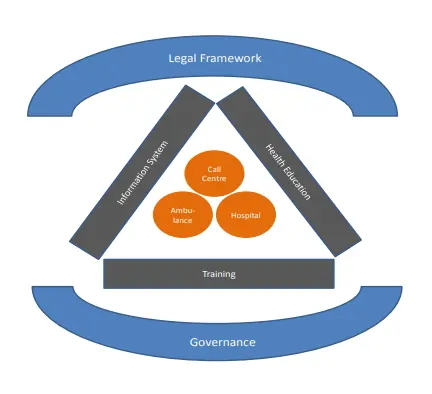 How are the components of EMS in India limited?

The economic and political conditions of each state matter to the whole country. Some of the conditions can take a longer time to get changed. There can be hope for a nationwide common EMS model accessible to any resident from any part of the country. It may not be for now but it is possible in the future.
Ambulance Services- The majority of locations today have a basic transportation system for emergencies. But as the number of accidents increases, there is a need for ambulances equipped with life systems.
Even when considering the ambulances at a basic transportation level is not uniform throughout India. There are rural areas and areas where road transportations are limited. This can be due to underdevelopment or geographic limitation. A gradual change can only be possible with the start of small clinics one at a time.
Call Centre- A 24/7 run call centre is a must with multiple lines to avoid when lines are busy. The main aim is to connect every person who dials to a unified toll-free number (eg 109). Depending on the financial budget allotted, there must also be significant improvements in the development of software associated with call centres.
Information Systems- This would not be a problem to present India as there are technology providers who can change the level of productivity and implementation of EMS in India. Alerts can be scheduled in an instant and applications can be used for the management of multiple cases at a single time.
Hospital Emergency Department- Rather than the usual entrance to a hospital, a separate pathway is preferred so that ambulances can drive through and take the patient to the critical care unit. Additionally, the department should be ready with staff who have undergone Emergency Medical Responder Training.
Education & Training- A few years back Emergency Medical Course was still new to many who were in the health care sector. This has changed over time. Skills Training for Medical Professionals has changed considerably and is also changing with time. Institutions such as IIEMS always promotes Skill Courses for Doctors and Nurses and with the help of technology brings medical simulation to reality.
Most private hospitals have a separate emergency department today. This is not the same for all government and other sectors of hospitals. This can be changed if Government can allot a particular financial budget for hospitals.
Legal Framework & Governance- At present, EMS in India is mostly dominated by the private sector in collaboration with state governments. An ideal EMS ecosystem needs to be under the control of the government with applied rules and regulations governing the mode of EMS. Government should also assign a council to keep an overview of the practices given in EMS
To support the modern healthcare system, IIEMS offers Emergency Medical Services with 24/7 run Ambulance Services backed by the support of medical professionals who have undergone Emergency Medical Care Training.
Dial+91 944 600 0478 for Emergency Medical Services by IIEMS